Blog
USOpen Tennis Tournament and Cloud Technology
At VMworld 2013 a few weeks ago, a marketing executive from a technology company asked me what kinds of workloads were inappropriate for the cloud with today's technology. Core banking and manufacturing execution systems immediately came to mind. Banks do not want their security compromised, and manufacturing plants do not want any downtime. Current cloud technology is not ideally suited for these applications.
On the other hand, after watching the U.S. Open tennis tournament online and noticing that it was powered by IBM, I wondered how such an event could be architected to take full advantage of cloud technology.
While watching the finals stream to my laptop, I thought, "How amazing that a little screen is bringing together bits of information from multiple sources."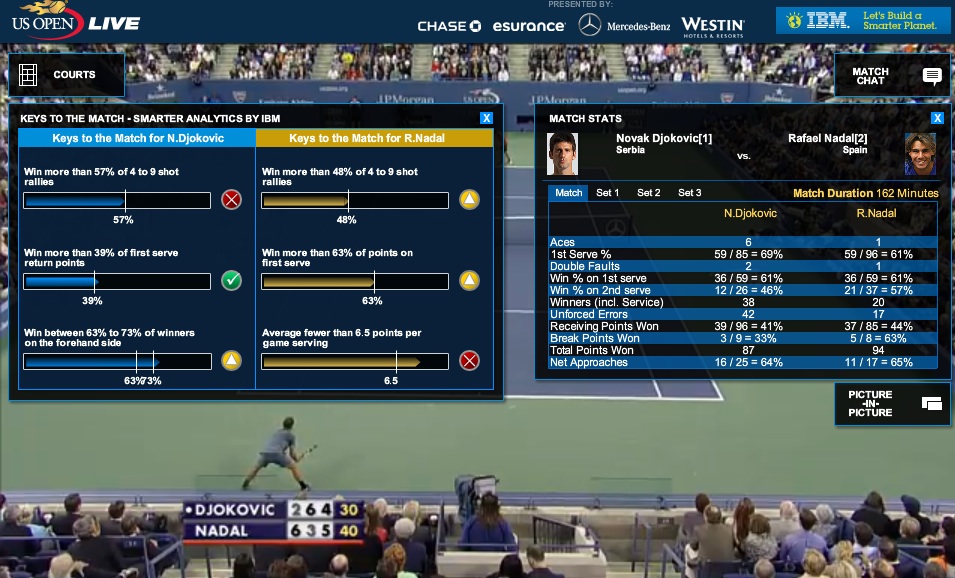 My observations:
Social: The match chat button at the upper right hand allowed you to watch viewer comments streaming from Twitter. Combining social sentiment with analytics offered interesting insights of fan reactions to player performance.
Mobile: For an aficionado who wants to keep up with action while on the move, the mobile app allowed you to stay abreast of the latest action. I am sure there were many fans in the stadium gobbling every bit of network capacity by looking at real-time player statistics.
Analytics: The capability to use analytics before during and after matches provided the ability to visualize outcomes from the previous set (e.g. medium rallies, return points, 1st serves, etc.), bringing a whole different experience to the event. Combining analytics delivered via laptop, tablet or a mobile phone in combination with stadium attendance or TV viewing offers unique understanding of the intricacies of tennis.
Like political campaigns, sporting events occur periodically, after which the use of the IT equipment ends. Consequently, the utilization of cloud resources to support such events can qualify as an efficient use of infrastructure.
Here are some of my observations on the benefits cloud can offer in these situations:
Compute resources: Ideal for use in spikes, as the amount of bandwidth needed to handle fan transactions can increase dramatically; video processing and analytics can overwhelm a sporting event, especially during the finals.
Storage Resources: The volume of video and images generated increases significantly as a sporting event proceeds. Since tens of thousands of users demand instantaneous information, in-memory data storage is ideal to meet this need.
Network bandwidth: The amount of data capacity needed at a sports venue (in this case Flushing Meadows, New York) is massive since sports fans are using mobile devices to generate and share images/videos through social networks. At the same time, worldwide content distribution through multiple channels is ideally suited for delivery through edge networks. Cloud delivery is an ideal way to manage spikes in bandwidth use.
According to IBM, its Power Systems provided the underlying technology for the compute infrastructure distributed among three data centers supporting the U.S. Open. With IBM's reputation on the line at a highly visible sporting event, these environments have to be architected to support very challenging service levels.
Intense demands on web sites are not uncommon, and there are many examples of news sites experiencing high demand during breaking events. In another example, Google App Engine delivered content via the royal wedding website to millions of users in 2011. However, the amount of variables at the U.S. Open required a significantly more complex cloud implementation compared to straightforward web site traffic.
While U.S. Open was a good opportunity for IBM to gain customer goodwill, it was surprising that the twitter hash tag #gamechangersibm drew relatively little participation over the course of the tournament. If IBM can apply the experience to showcase applicability to real industry applications, it should provide IBM an advantage over the competition.
I look forward to participating at IBM Enterprise 2013 on Orlando from October 21-25 and to learning more about the use of the Power platform to address real business problems.